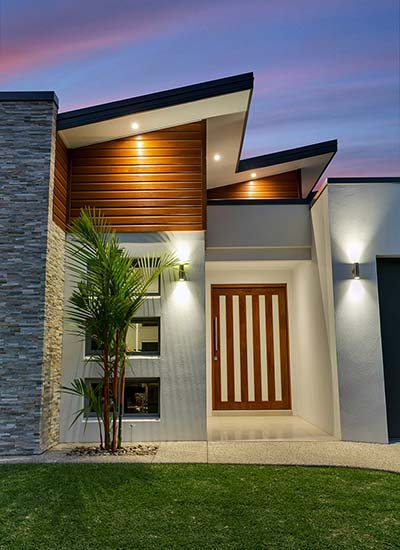 As Cairns custom builders, no two projects are the same: every design starts with a blank sheet. Our design process takes into consideration your land, budget and lifestyle requirements. We understand your dream home is unique to you and we pride ourselves on delivering custom designs to suit your requirements.
We are not a volume builder. We limit our projects each year, so you receive the highest quality assurance, undivided attention and exceptional customer service.
As a trusted, local, family-owned business, we know how important the relationship is between you and your builder. That's why you deal directly with Mark and Sharna.  No middlemen: the same people you meet at the start are the same who work with you for the entire project.
Mark will meet with you on your site (or one you are considering purchasing) to identify the opportunities, limitations and potential.
We will prepare concept sketches and develop your design based on your feedback, budget and brief. Our designers maintain the consultation and develop the detailed design to deliver the most cost-effective solution.
We provide you with an estimate to build your project based on plans and specifications developed during the design process.
Mark will meet with you to go over the detailed design and working drawings to ensure they meet your needs and expectations.
Once you are happy with the proposed design and before you sign a contract, we will arrange working drawings. This will assist with the planning stage later and requires an initial deposit for preparation work. Once these are finalised, we will provide a fixed quote in which you can be confident there are no hidden extras. You will also select all the colours, finishes and fixtures for your new home.
Plans are submitted to council for approval.
Your new house becomes more than a dream. Drawings and plans take shape and your new home is created.  Right through this process Mark will have regular meetings to keep you up to date.
8. NEAR COMPLETION INSPECTION
At or near completion of construction, Mark will meet with you on site to make sure everything is as you expect. Any questions you have will be addressed prior to your official handover so that everything runs smoothly.
Welcome to your new home.  We will meet you at your new home for the official handover where you will receive your keys and final certifications. Then it's time to celebrate!
Our customer service extends well beyond the official handover. Unique Constructions is dedicated to customer service and our team will work to ensure you are completely satisfied with your new home.  We are committed to a six and half year structural warranty and a 12 month defect period.
A NEW STANDARD IN CUSTOMER SERVICE
Regardless of whether you're a first homebuyer or if you've been around the home building block before, Unique Constructions guarantees to take you on a smooth and stress-free journey.
As well as having your own dedicated New Home Coordinator, you'll also receive direct access to the person actually building your home. Mark will provide regular updates via phone, email and also have regular site meetings.
Unique Constructions will be by your side every step of the way. Now that's customer service you can count on.
…Our designs are specific to the tropical lifestyle, offering a seamless combination of indoor / outdoor living that takes maximum advantage of natural light and ventilation.
