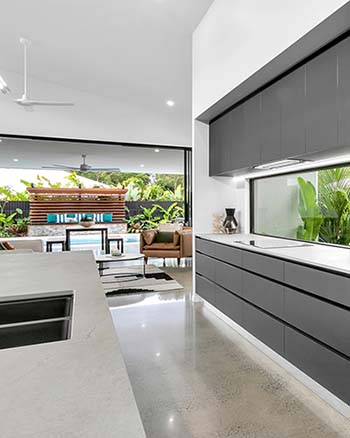 There's no need to compromise between luxury, quality and affordability. When it comes to custom homes, our philosophy is simple: premium quality and luxury shouldn't have to come with a high price tag. Many people believe a custom home is beyond their budget, but the truth is, a Unique Constructions home can be very competitive with, or even cheaper than, comparable project homes. We focus on the highest standards of design and construction at a price that will fit within your budget.
You can start with one of our pre-designed floor plans and work with our design team to alter it according to your needs, or, can create something that is completely original. You can even bring your own sketches along and we'll help you create an amazing and unique design.
To design and build a home that meets your every point of need and desire requires an understanding of who you are and what you wish to portray. That is why we strive to understand who you are and what you need, in order to construct a home uniquely centred around your life. Our collaborative architectural design and build process help us build homes that are alluring, liveable and uniquely reflective of your personality.
From our first meeting with you, we begin to design your home with unique details that meet your needs for aesthetics and functionality. By working with you throughout the design process, we offer our experience for your design needs, while incorporating innovation and quality.
Read on to see our three main considerations when designing homes for our clients.
Creating the ideal floorplan
To build the perfect house, it is imperative that the floorplan and overall home design takes into consideration the individual desires and needs of the occupants of the house. At Unique Constructions, we understand this and tailor our designs around the individual needs and lifestyle of each member of the household. By considering how each member likes to spend his/her own time but also how members spend time with each other, we can ideally design a house that integrates functionality and practicality.
Our custom luxury homes are built with a unique attention to detail, be it where you would like children to store their school bags or how shopping would be brought in from your car. When designing the perfect home for you, every little detail counts, and no one understands this better than we do.
Visualizing your Facade
As a local builder residing in Cairns, Unique Constructions knows just how important the façade of your home is. In thinking about your façade, you would usually ask yourself these three questions: What style of façade suits your personality? What statement would you like to make? What would suit your location best?
As a local family-owned custom home builder, we pride ourselves on our open-planned living designs. Our designs usually feature large bi-fold doors or louvers to capture the breeze. Because we have in-depth knowledge and understanding of the location, we design and build unique, artistic and futuristic skillion and pavilion-style homes that make the bold and contemporary statement you are looking to make.
A NEW STANDARD IN CUSTOMER SERVICE
Regardless of whether you're a first homebuyer or if you've been around the home building block before, Unique Constructions guarantees to take you on a smooth and stress-free journey.
As well as having your own dedicated New Home Coordinator, you'll also receive direct access to the person actually building your home. Mark will provide regular updates via phone, email and also have regular site meetings.
Unique Constructions will be by your side every step of the way. Now that's customer service you can count on.
…Our designs are specific to the tropical lifestyle, offering a seamless combination of indoor / outdoor living that takes maximum advantage of natural light and ventilation.

Texturing and Finishing throughout your home
Building the perfect house is not just about design; it is also about how different textures blend seamlessly to offer you the perfect finish throughout your home. Finishing your home in a manner that makes it both unique and impressive is an art that Unique Constructions has mastered. This entails the professional combination of organic finishes like raw concrete, luxurious natural stone, woollen loop carpets, and soft oak textures, with bold black fixtures and porcelain tiles to metamorphose any living space into an inviting and visually alluring one. To make sure your house seamlessly speaks to your identity and personality, we incorporate some of its external finishes and textures on the inside.
Unique Constructions can help make your dream home vision into reality. By working in close collaboration with you and your family, we can work together to build the home that matches your unique personality and lifestyle.