PO Box 885, Smithfield Queensland 4878
We'd love to hear from you
Whether you have plans, just an idea or a dream, we'd love to hear from you. Let us help make those plans or dreams a reality. Send us your enquiry today!
Karen & Steve Lewis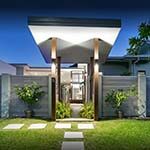 My husband and I had the absolute pleasure of building with Unique Constructions. We already had our own set of plans and after our initial consultation with Mark and his wife Sharna we knew straight away we had chosen the perfect builder for our dream home in Cairns. Mark made the whole experience so pleasurable. We were living interstate at the time, visiting every four or five weeks. Mark and Sharna kept us fully informed throughout its progress and every visit we were so excited to see our dream home come to life. Mark is one very talented builder. We put our faith in him to deliver and we certainly got the result! We are still in awe of living in our little piece of paradise.
Linda & Chris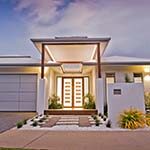 We really love living in our "Paradise", it's a great layout and we love the high ceilings. The home costs a lot less to run than our last place, where we had to have the aircons running most of the time. Here, we just open the stacker doors and let the breeze in. One thing we noticed were the things that came in the standard price, we really only had to purchase curtains because everything else was provided. A lot of display homes we looked at had a heap of features that all cost extra. Working directly with the builder made a big difference, we always knew what was going on and Mark had some really good ideas that saved us time and money. We are happy to recommend Unique Constructions.
John & Margaret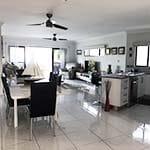 Unique Constructions were engaged by myself in late December 2012 to completely renovate my recently purchased three bedroom unit overlooking the Cairns Esplanade. The unit required a complete renovation including bathrooms, full painting, kitchen renovation, security screens, major electrical work, pest inspection and purchase of designer furniture throughout the entire unit. Nothing was too much trouble and Unique Constructions expertly coordinated all aspects of the renovations to a very high degree of workmanship. The service was very quick and efficient and they were very competitive in obtaining the best quotation and what I really appreciated followed up on the quality of the workmanship rejecting work that was not to their high standard of delivery. I would recommend this company to anyone considering a renovation, I really appreciated their warm but business-like manner and the fact that they coordinated every aspect of the renovation enabling my wife and myself for me to walk into a beautiful home before Christmas.
Paul Mashford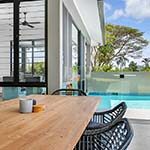 After completing a build with Unique Constructions we wouldn't hesitate to seek their services again. Mark and Sharna were always on call or on site and were more than happy to work with our customised requirements as the build progressed.
Upolo
Toni & Neil Gilliver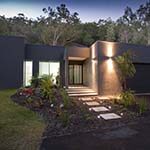 We had a rough plan of what type of house we were looking to build.  We did try others builders, but I found they were not open to my ideas or suggestions,  they wanted to build their designs and were not interested in what we wanted.  After meeting Mark, I felt completely confident that he was interested in what we wanted, he was open to our ideas and along the way suggested improvements. Mark was always available and happy to discuss our project, the service we received was excellent.  Unique Constructions provided us with a fantastic building experience, they were very timely and the quality of work excellent. So much so, we entered the house in the HIA Awards. I would highly recommend Unique Constructions to others, and have done.
Clifton Beach
Jasmine & Brett Jeffery's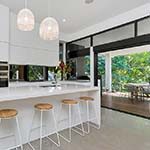 Jasmine and I would like to thank Mark Price and Sharna Price from Unique Constructions for building our dream home. We can honestly give them the biggest wrap for being professional, on time, well organised and masters of the industry. The workmanship was amazing and nothing was a problem for this amazing team. We searched high and low for a builder and we could not make a decision for 12 months. We then met Mark and Sharna and after looking at their previous house builds and designs, we knew we had found the right people. I highly recommend this company and I am happy for anyone wanting to build a house to contact me for further information regarding Unique Constructions. We wish them all the best and will definitely use them again if we build again in the future.
Redlynch 
Elisabeth and Werner Kraemer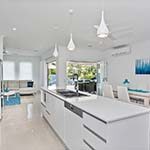 I am writing you this letter to let you know how pleased we are with our new home and the experiences we had working with you. The house is wonderful, and its construction and finishing went very smoothly.  Mark is very focused on customer satisfaction. He was extremely responsive to our concerns and changes while the house was being built, and  worked diligently with us to get the house completed on time. He continued to resolve the few issues we have left after we moved in.  Working with your tradesmen was also a very pleasurable experience. Having built other homes previously, we expected the highest quality and customer service. This is exactly what we received. We look forward to many years of happiness in our new home. I don't know if we'll ever build another home, but if we do, you can be sure we will consider Unique Constructions first.
Palm Cove