The HIA (Housing Industry Association) Cairns Region Display Home of the Year 2021 has been sold and will be closing it's doors to the public from 15th May 2022.  The Palm Cove display home is located at 68 Argentea Blvd and was designed and built by Unique Constructions.
It may be a while before we see another display home from Unique Constructions so here's a few reasons why you should check it out before it's too late!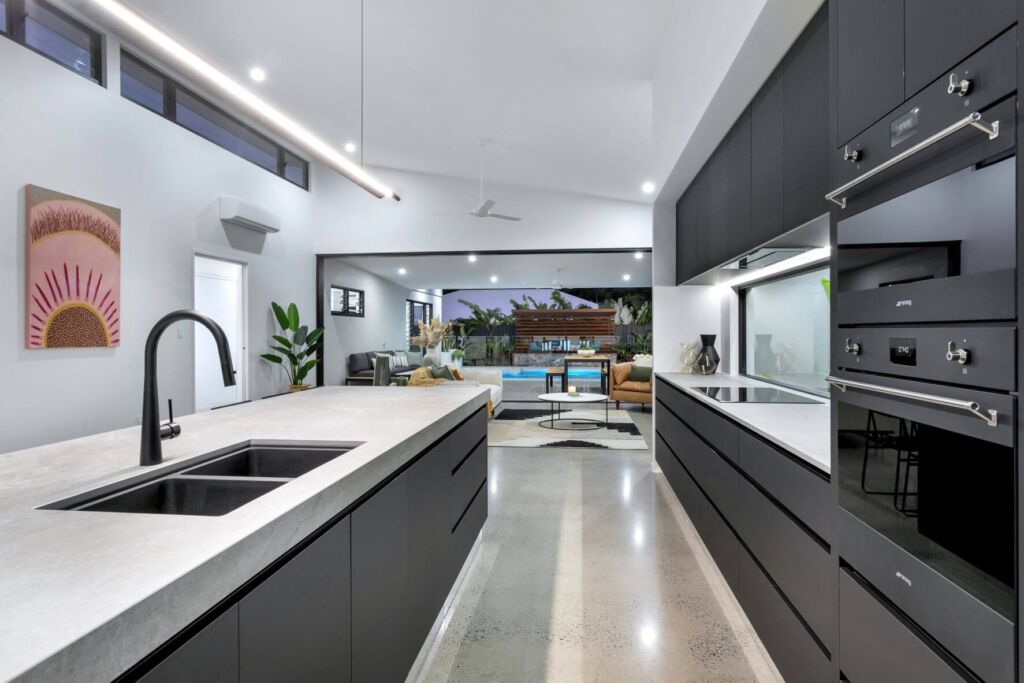 The Wow Factor in this Palm Cove Display Home
The first thing that strikes you when you enter this beautiful Palm Cove display home is that wow factor we all want our homes to have. The extra wide entry door, high ceilings and window placements in the lounge/kitchen/dining area create a light, airy, welcoming feel. Your eye is naturally drawn to the sparkling pool and oversized alfresco area that truly takes advantage of the reasons we live in Far North Queensland. Photos just don't do it justice – you have to see it to really experience the wow factor!
Clever use of space
Do you love a house that has unique ideas for utilising space and has plenty of storage? Unique Constructions will not disappoint with their Palm Cove display home. Whether you want to go for the Osprey design as it is or tweak it to suit your individual needs, this display home is a fantastic way to decide what you do or don't like. You may pick up ideas that you'd never considered before or that you never even knew existed. From cupboard placements to study nook to walk in wardrobe and butler's pantry to built in dining areas and barbeque/bar areas, Unique Constructions has clearly put a lot of thought into this design.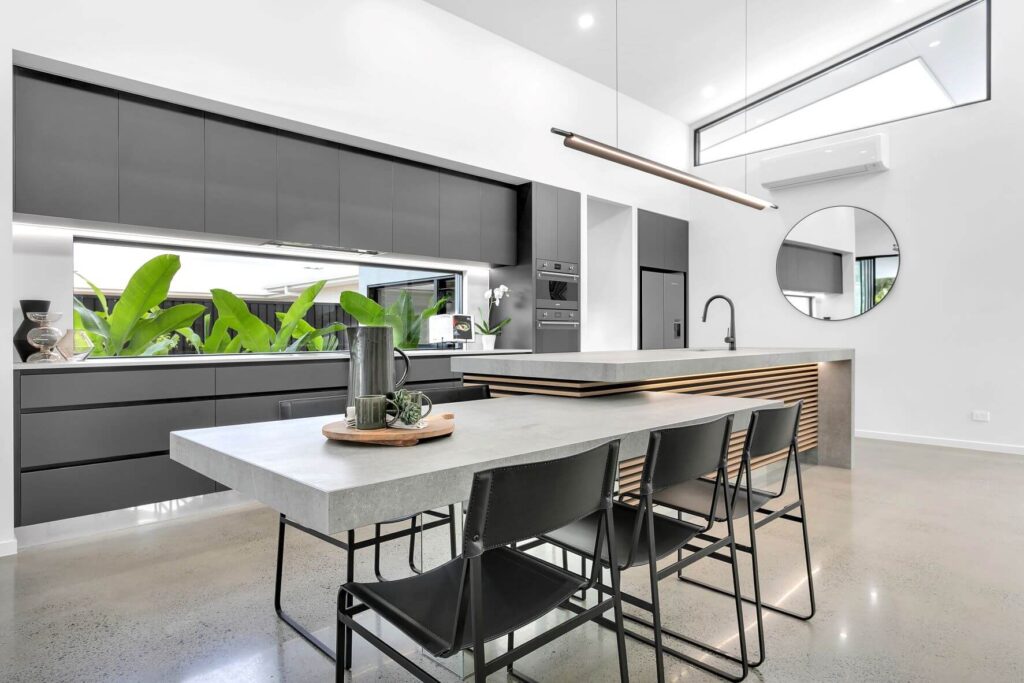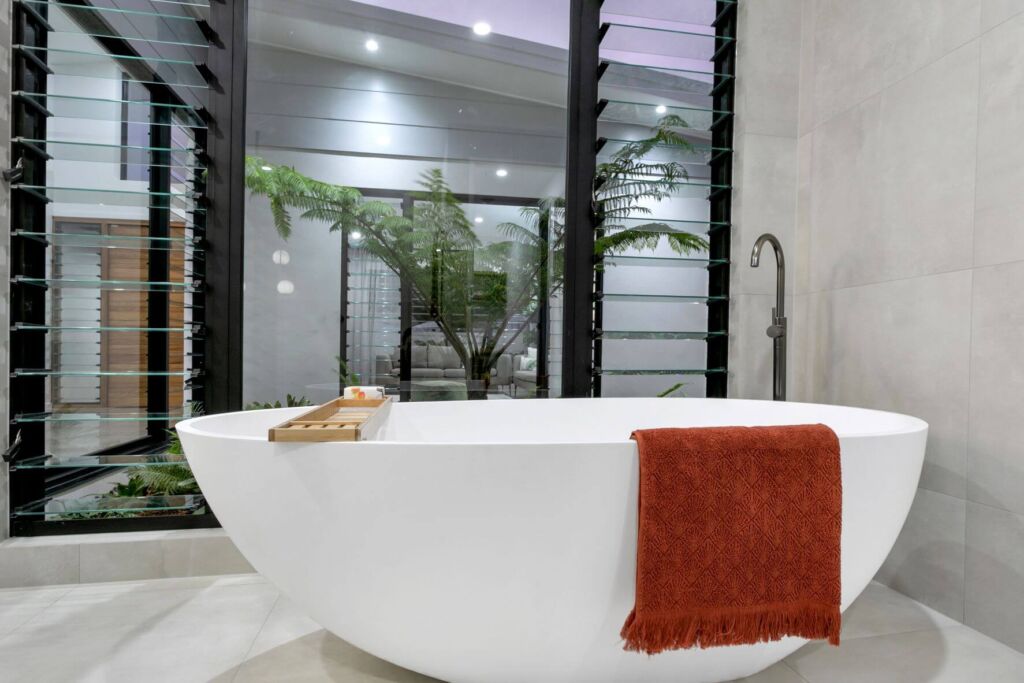 Bringing the outdoors in
The Cairns region is a tropical paradise and builders are always trying to find ways to make the most of that with their designs. Unique Constructions have really hit the nail on the head on bringing the outdoors in with this Osprey Palm Cove display home. The huge stacking doors allow you to open up the lounge area for seamless integration with the undercover alfresco area. This allows you to host barbeques even when the wet season strikes!
Instead of a traditional splashback, the kitchen has a glass window that overlooks a beautifully landscaped garden – a much nicer view than a tiled wall if you ask me.
External garden nooks around the house with windows that overlook them are a great way to bring a touch of nature into the house. What could be better than a bath with a garden view in your own home?
Quality of workmanship, materials and design
Everywhere you look in the Unique Constructions Palm Cove display home you will see excellent workmanship. A quick read of their client testimonials shows that all Unique Constructions builds live up to this exceptional calibre. High quality fixtures and fittings come as standard (no extra costs) and the home has function and flow that only comes about from really listening to their clients. That's something that just doesn't translate on paper.
In the Osprey display home at Palm Cove, you'll see samples of the materials you can choose from and a book with photos and different designs that may interest you. A friendly team member will be ready to chat, throw around design ideas and point out what sets a Unique Construction build apart from the rest.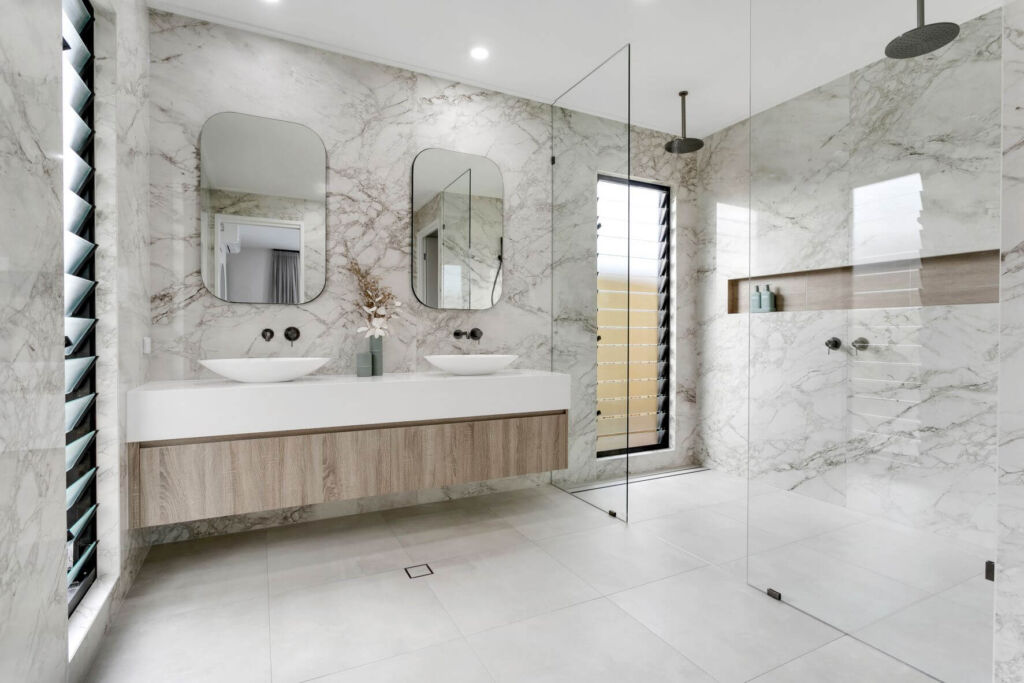 Conclusions about the Palm Cove Display Home
Whether you are planning to build soon or think that you might sometime in the future, I'd highly recommend getting along to check out the Palm Cove display home. Looking at designs on paper and in photos is great but nothing quite compares to being able to walk through and get a feel for the design. Be sure to take a notepad and make a list of what you love because there will be too much for you to remember. Get in quick though – the last open day is the 15th May 2022!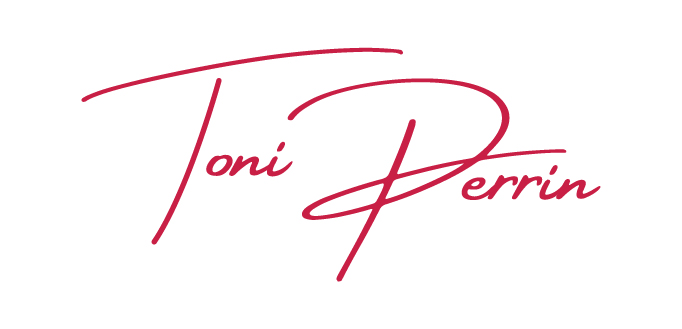 Guest Blogger – Toni Perrin from Kickass Marketing